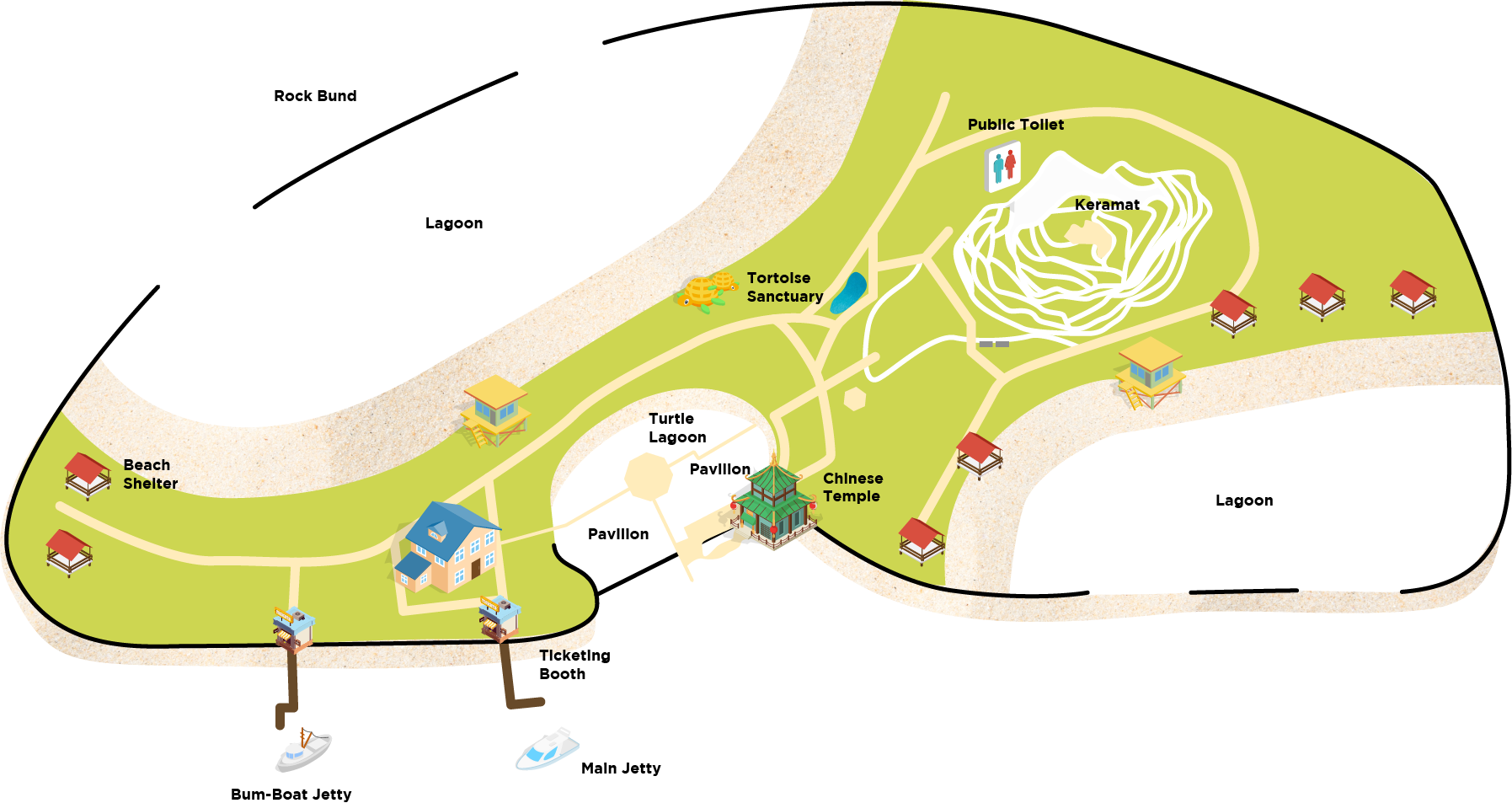 Kusu Island
Attractions to Look Forward to on Kusu Island
Kusu Island is named after a curious legend that claims two fishermen wrecked their vessel near it. A turtle came to their aid by turning itself into an island where they could land.
Today, you can find turtle statues and even a turtle pond on the island. They can be found in the grounds of one of the main attractions, a temple that devotees visit in droves each year.
We offer a ferry ride to Kusu Island daily. Book with us to try any of the following activities on the island!
Activities to Try in Kusu Island
Visit the Temple and Shrines
There is one Chinese temple and 3 Malay shrines or keramat that pilgrims visit every 9th lunar month. The former is for those who want to reach out to the Chinese deity Tua Pek Kong, the God of Prosperity, or Guan Yin, the Goddess of Mercy.
Part of the experience for those heading to the Malay shrines in particular is to take all 152 steps to reach them. Many of the couples who reach the top pray for children!
Hit the Three Bells in the Wishing Well
There's a tradition when visiting Kusu Island's famous Wishing Well: you have to throw coins at the three bells in it and try to hit them.
Legend has it that if you hit all three, you will have your wishes come true!
Cast Your Wishes at the Wishing Tree
Kusu Island also has a very popular Wishing Tree. In this case, the practice is to tie a red string around a folded piece of paper where one has written one's wish. This is then thrown to the top of the Wishing Tree.
The goal is to get it as high up in the tree as possible. The higher up in the branches the parcel lands, the better the odds of the wish becoming reality.
Enjoy Afternoon Picnics
While the island's al fresco hawker centre is only open during the pilgrimage days mentioned above, people still picnic at Kusu Island all year round. Just remember to bring your own food and clean up after yourself before leaving!
Take a Relaxing Walk by the Beach
The island has very pretty beaches and lagoons. Many visitors enjoy walks by its beaches and simply enjoy the sights and sounds, as well as the varied marine wildlife that may be spotted through the crystal clear waters.